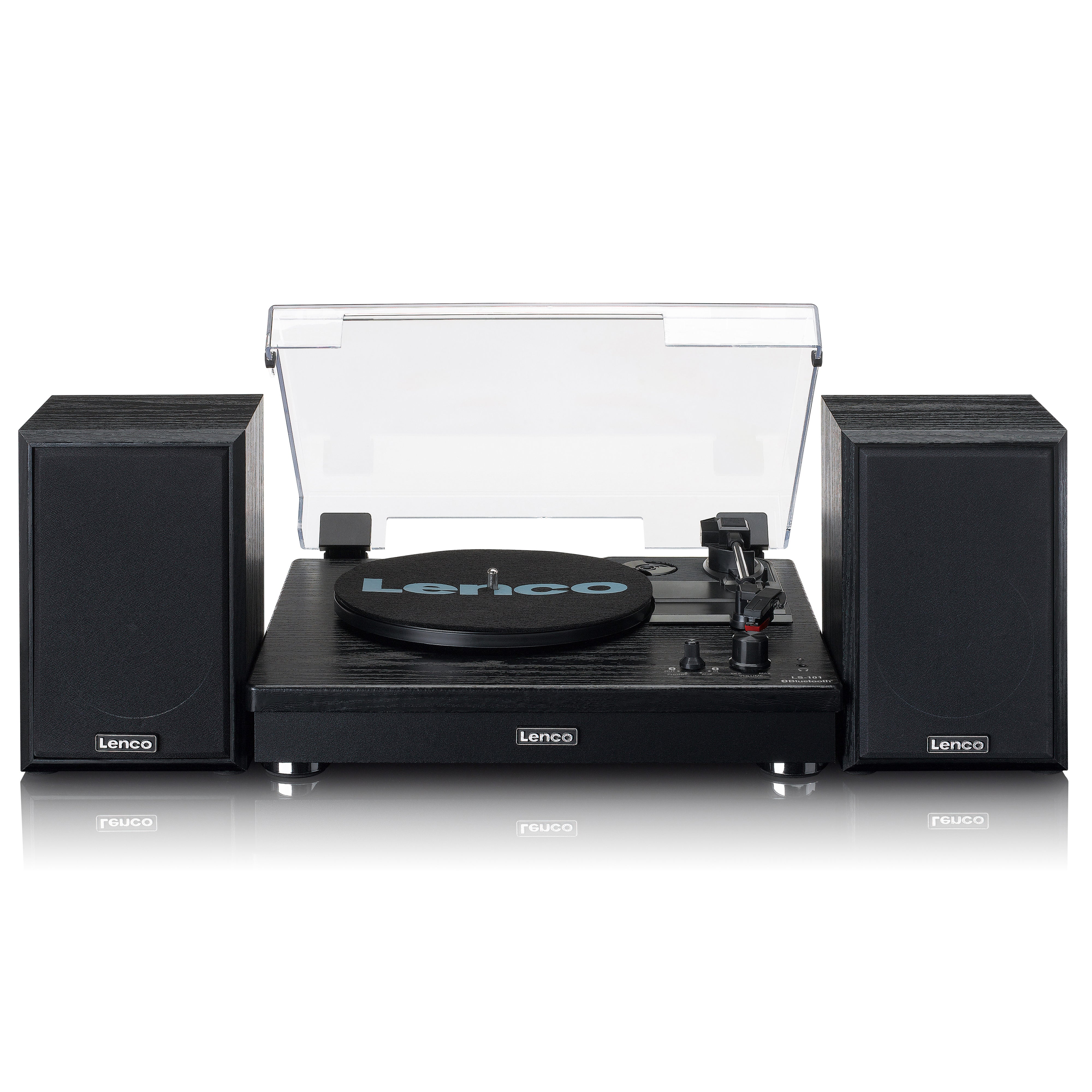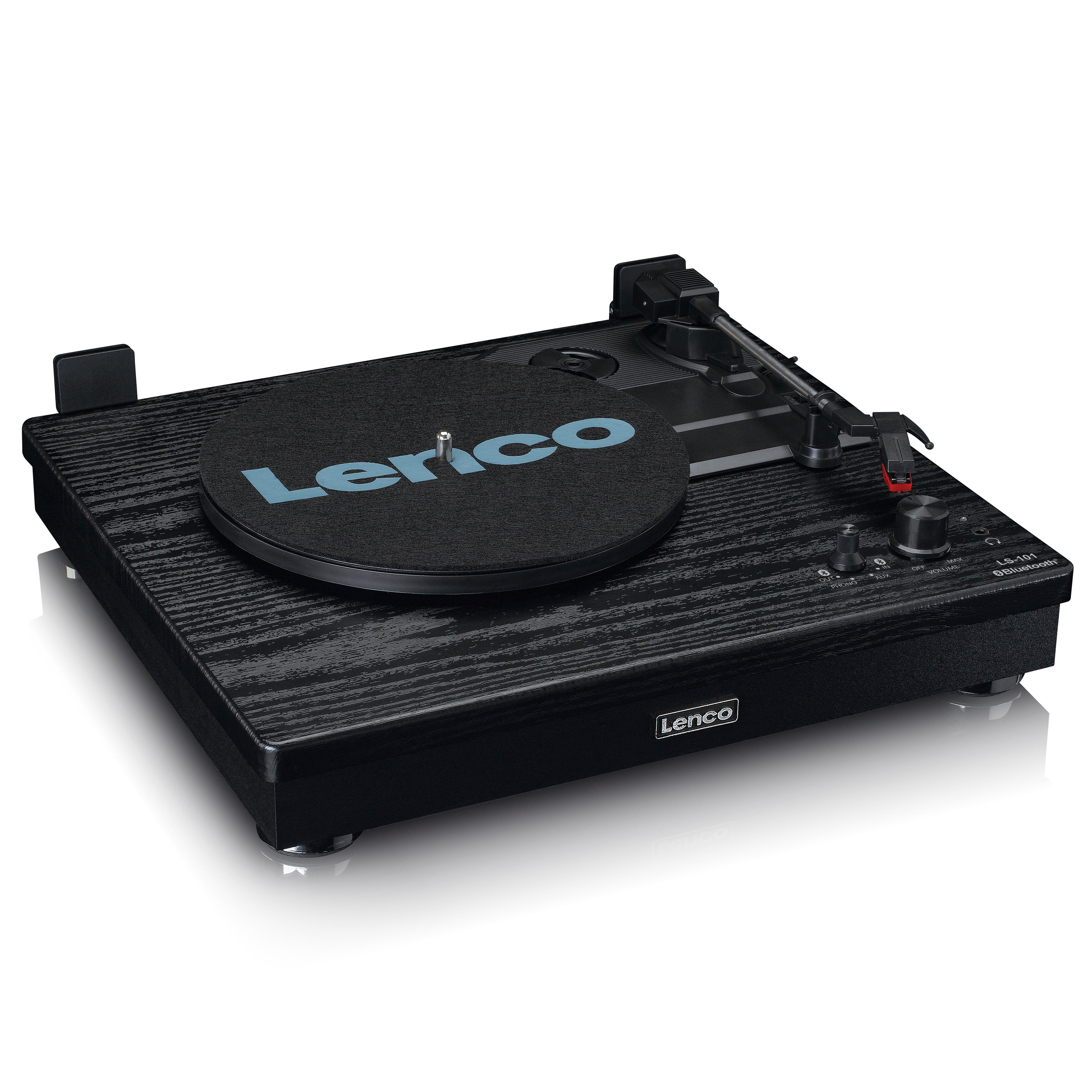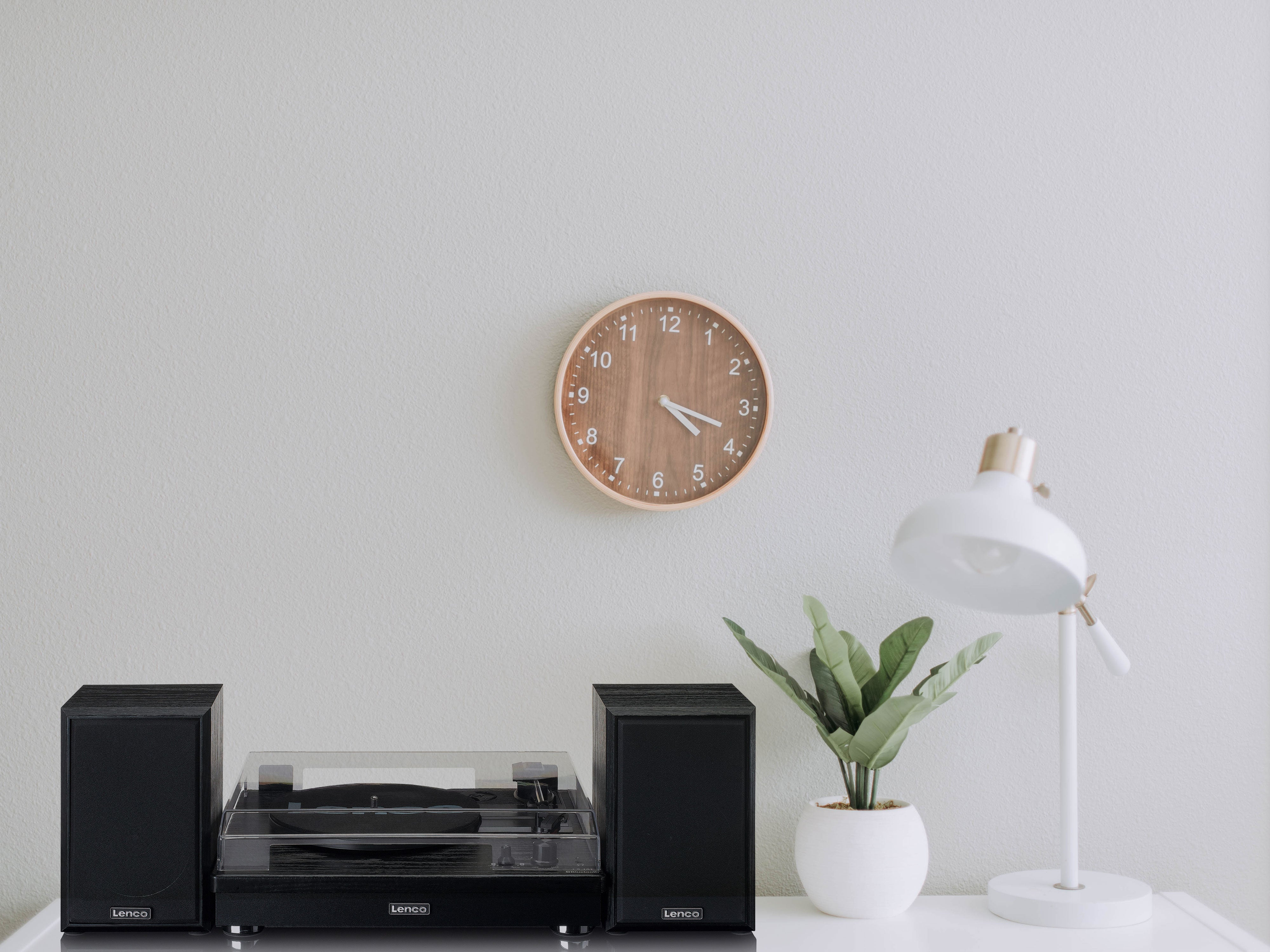 LENCO - LS-101BK - Belt drive wooden turntable
Free 48-hour shipping to Mainland UK.

FREE 24 months warranty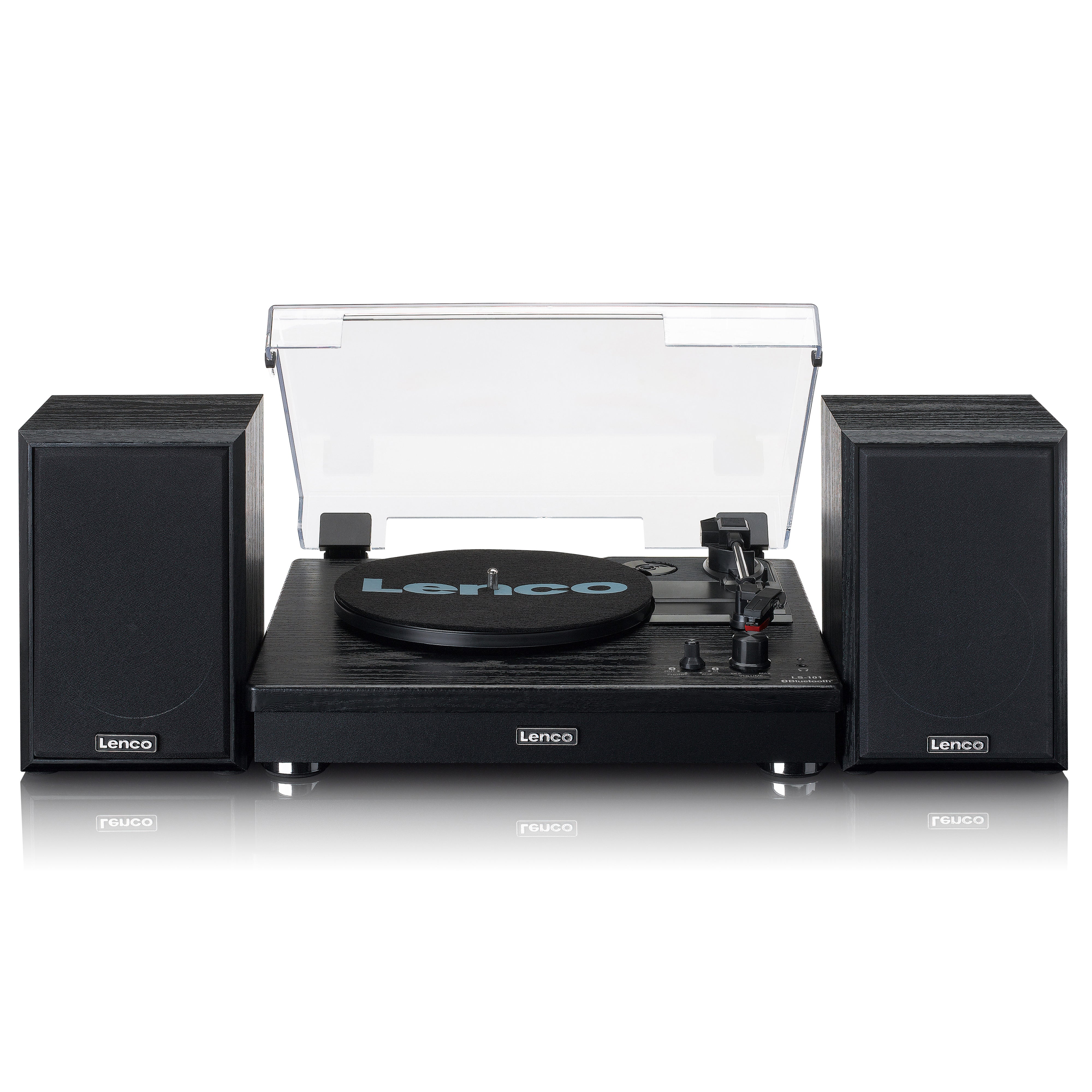 Enjoy your record collection with Lenco's LS-101BK Turntable. Thanks to its two speakers, both with an output power of 10W RMS, you can listen to your music at the highest possible sound quality. You can also place the speakers separately from the turntable, creating a stereo effect.

The LS-101BK has several modern features and playback capabilities. For example, the records can be played at three different speeds of 33, 45 and 78 RPM. At the end of the plate, the arm automatically stops turning due to the auto-stop system. Because the LPs are driven by a belt, there are no unwanted vibrations that can disturb the sound signal. In addition, this LS-101BK also has pitch control.

You can also play music from other music sources. The AUX input can connect to other music sources using an audio cable. The Bluetooth® 5.0 connection can also stream your favourite playlist wirelessly from your smartphone or tablet. In addition to Bluetooth reception, this turntable also has a Bluetooth transmit function. This enables you to listen to your favourite LPs on your wireless headphones. Whatever your preference; you will always enjoy optimal sound.

In addition to the many playback options and high quality of sound, the turntable is made of solid material. It has a MDF case and ceramic cartridge. With the plastic dust cover, you protect the LS-101BK optimally against damage. Both the plastic dust cover and the AC adapter are included.

What's in the box?

Turntable
2 x speaker
AC adapter
Slipmat
45 TPM adapter
Manual NL / EN / DE / FR / ES
Additional instruction card
Item number LS-101BK
GTIN / EAN code 8711902069362
Certification CE
Measurements for product 1: Turntable
Product height 1 10.00 centimeter
Product width 1 34.00 centimeter
Product depth 1 32.00 centimeter
Measurements for product 2: Speaker (1 piece)
Product height 2 20.00 centimeter
Product width 2 13.00 centimeter
Product depth 2 12.00 centimeter
Colour product Black
Material Metal, Plastic, Wood
Standby power in Watts 1 0.00 watt
Off-mode power in Watts 1 0
Network standby power in Watts 1 0.00 watt
Time period switch to ErP state 1 0
Number of audio channels Stereo 2.0
Number of external speakers 2
Total output power (W) 20.00 watt
Audio / video / data connections input AUX IN 3.5mm
Audio / video / data connections output Speaker OUT
Audio / video / data sources Bluetooth, Line, LP
Bluetooth® type Zenden en ontvangen
Bluetooth® commercial range Up to 10 metres
Bluetooth® version 5
Bluetooth handsfree No
FM No
DAB No
DAB+ No
Internet radio No
Material external speakers Wood
Anti skating No
Turntable type Normal
Turntable with Bluetooth® Yes, stream to turntable, Yes, streaming to external sound carrier
MP3 encoding No
Mechanic armlift Yes
Needle pressure adjustable No
Pitch control Yes
Turntable drive type Belt drive
Autostop Yes
Autoreturn No
Warranty 24 months
Product weight (kg) 4.02 kilogram
Retail packaging / Sales unit height (m) 0.45 meter
Retail packaging / Sales unit width (m) 0.55 meter
Retail packaging / Sales unit depth (m) 0.17 meter
Retail packaging / Sales unit gross weight (kg) 4.81 kilogram
Handle No
Trolley No
Impedance external speaker (Ohm) 4.00 ohm
Touchscreen No
Turntable RPM speed 33, 45, 78
Supported record types 7, 10, 12
Pick-up system type Ceramic
Platter material Plastic
Pre amplifier Yes
Turntable with speaker(s) Yes, external wired speakers
Accessories Turntables included 45 TPM adaptor, AC adaptor, Cleaning cloth, Dust cover, Slip mat
Enjoy your record collection with Lenco's LS-101BK Turntable. Thanks to its two speakers, both with an output power of 10W RMS, you can listen to your music at the highest possible sound quality. You can also place the speakers separately from the turntable, creating a stereo effect.

The LS-101BK has several modern features and playback capabilities. For example, the records can be played at three different speeds of 33, 45 and 78 RPM. At the end of the plate, the arm automatically stops turning due to the auto-stop system. Because the LPs are driven by a belt, there are no unwanted vibrations that can disturb the sound signal. In addition, this LS-101BK also has pitch control.

You can also play music from other music sources. The AUX input can connect to other music sources using an audio cable. The Bluetooth® 5.0 connection can also stream your favourite playlist wirelessly from your smartphone or tablet. In addition to Bluetooth reception, this turntable also has a Bluetooth transmit function. This enables you to listen to your favourite LPs on your wireless headphones. Whatever your preference; you will always enjoy optimal sound.

In addition to the many playback options and high quality of sound, the turntable is made of solid material. It has a MDF case and ceramic cartridge. With the plastic dust cover, you protect the LS-101BK optimally against damage. Both the plastic dust cover and the AC adapter are included.

What's in the box?

Turntable
2 x speaker
AC adapter
Slipmat
45 TPM adapter
Manual NL / EN / DE / FR / ES
Additional instruction card
Item number LS-101BK
GTIN / EAN code 8711902069362
Certification CE
Measurements for product 1: Turntable
Product height 1 10.00 centimeter
Product width 1 34.00 centimeter
Product depth 1 32.00 centimeter
Measurements for product 2: Speaker (1 piece)
Product height 2 20.00 centimeter
Product width 2 13.00 centimeter
Product depth 2 12.00 centimeter
Colour product Black
Material Metal, Plastic, Wood
Standby power in Watts 1 0.00 watt
Off-mode power in Watts 1 0
Network standby power in Watts 1 0.00 watt
Time period switch to ErP state 1 0
Number of audio channels Stereo 2.0
Number of external speakers 2
Total output power (W) 20.00 watt
Audio / video / data connections input AUX IN 3.5mm
Audio / video / data connections output Speaker OUT
Audio / video / data sources Bluetooth, Line, LP
Bluetooth® type Zenden en ontvangen
Bluetooth® commercial range Up to 10 metres
Bluetooth® version 5
Bluetooth handsfree No
FM No
DAB No
DAB+ No
Internet radio No
Material external speakers Wood
Anti skating No
Turntable type Normal
Turntable with Bluetooth® Yes, stream to turntable, Yes, streaming to external sound carrier
MP3 encoding No
Mechanic armlift Yes
Needle pressure adjustable No
Pitch control Yes
Turntable drive type Belt drive
Autostop Yes
Autoreturn No
Warranty 24 months
Product weight (kg) 4.02 kilogram
Retail packaging / Sales unit height (m) 0.45 meter
Retail packaging / Sales unit width (m) 0.55 meter
Retail packaging / Sales unit depth (m) 0.17 meter
Retail packaging / Sales unit gross weight (kg) 4.81 kilogram
Handle No
Trolley No
Impedance external speaker (Ohm) 4.00 ohm
Touchscreen No
Turntable RPM speed 33, 45, 78
Supported record types 7, 10, 12
Pick-up system type Ceramic
Platter material Plastic
Pre amplifier Yes
Turntable with speaker(s) Yes, external wired speakers
Accessories Turntables included 45 TPM adaptor, AC adaptor, Cleaning cloth, Dust cover, Slip mat
POWERFUL SOUND
Thanks to its two speakers, both with an output power of 10W RMS, you can listen to your music at the highest possible sound quality.
NOT JUST A RECORD PLAYER!
The AUX input can connect to other music sources using an audio cable. The Bluetooth® 5.0 connection can also stream your favourite playlist wirelessly from your smartphone or tablet.
recent reviews
Fantastic for the money
The "wood finish " looks much better than the picture shows. The sound quality from the records are perfect for me. (Being and iron maiden fan) it's all about decent sound quality. The added Bluetooth feature is a bonus, connect the phone and listen away. Also the belt for the turntable is easily fixed, overall a fun piece of kit.
Stylish Stylus
Great record player bought for my son, he loves it and we liked it so much we ordered one for us. Weight adjustable arm. Bluetooth. Easy set up. Excellent sound.
Excellent value for price
I bought this as a gift for myself and I am delighted with it. The sound is incredible and it looks really smart. The only reason it isn't a 5 star review is because the arm doesn't automatically return to the rest at the end of the record.